BY Anthony Campisi | February 28th, 2022
What to look for in an agency partner for your school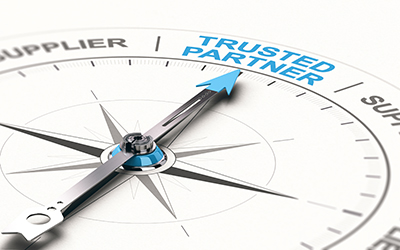 There are many reasons you might seek out an agency to help enhance and bolster your marketing department. Maybe your team is small or you're facing new challenges. Perhaps you've had budget cuts and you need ideas on how to do more with less. Before you begin your search, you'll want to have a shortlist of criteria to consider. Here are a few ways you can narrow the field to find an agency partner that can have a big impact on your school.
Higher ed institutional knowledge
Why is marketing higher ed different than other industries and why does education experience matter when you are selecting an agency?
Audience segmentation: The decision-making process for prospective students is complex. Select a partner that can help you develop personas to properly focus not only on demographics (who they are) but psychographics as well (why they buy).
Price point: Creating a strategy that aligns with that of a luxury good can take finesse.
Knowledge of the sales funnel: The sales process in higher ed looks different than in other industries, often with marketing and admissions operating in lockstep. Find a partner that can provide insights at all stages of the funnel.
A focus on lead generation and enrollment
In many organizations, marketing may be responsible for filling the funnel while sales take the hand-off to close the deal. In higher ed, the sales funnel behaves a bit differently and can benefit from both marketing and admissions working together throughout the process. Having an agency on board that understands enrollment targets and the flow of prospects from initial interest to a seated student can be critical. Seek out a partner that has the capability to interact at different stages of the funnel with strategies that can dislodge stalled leads, encourage submitted applications and integrate with your CRM to facilitate the yield process.
Agility and flexibility
Higher ed programs often have defined recruiting cycles. And while it may be tempting to repeat strategies and tactics that worked in a previous cycle, it's important to maintain a level of flexibility and continually assess what is working (and what isn't) in real-time. What worked last year may not work as well this year. It's important for your agency partner to strategize with you to build out your marketing plan, but also be prepared to track data and pivot at a moment's notice if the plan is not generating the activity required to meet your enrollment goals. Having digital lead generation experts that can shift, test, monitor, and react is invaluable.
Tracking ROI
What if you were able to track every seated student back to a specific marketing campaign, ad or message? And what if you were also able to assign a cost per lead to each student and find ways to optimize your marketing spend so you could attract more students? Partnering with a digital firm that has powerful analytics capabilities with custom dashboards and integration with your CRM can give your school actionable insights and justification for every dollar you spend in your marketing budget.
If you are looking for an agile partner that is an expert in higher ed lead generation and enrollment, look no farther than GPRS. We have worked with over 60 institutions to seat a growing number of students and have our own proprietary tracking platform called GPInsights™ that can optimize digital campaigns in real-time and give you a window into how your marketing is performing. Let's start the conversation today.