BY Alicia Lyons | March 29th, 2019
Awareness Ads vs. Remarketing Ads: What's Missing from Your Online Campaigns?
At GPRS we employ a full funnel approach. You may be comfortable with search and display ads, but how experienced are you with awareness and remarketing campaigns? Without them, there's a very good chance you're missing out on critical leads.
Awareness Campaigns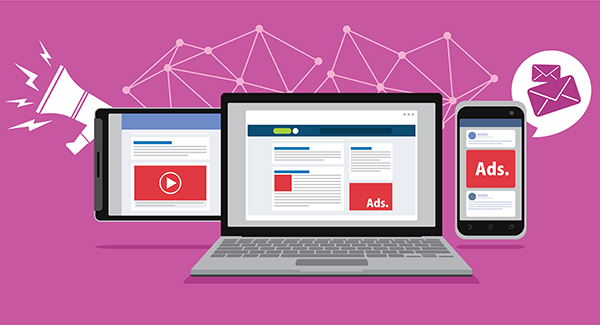 An awareness campaign lives at the very top of the funnel. They are the simplest campaigns to deploy. A potential lead has never heard of your program. They may be considering going back to school to further their career but don't know yet which college they'd like to attend. They may be researching through Google when they come across your awareness ad.
An awareness ad is directed at a large audience, often using broad keywords in order to cast a wide net for potential leads. These ads take a much softer approach to sales than remarketing ads, which many times encourage prospective students to "Apply Now!" or push them with an admissions deadline. In an awareness campaign, you might choose to highlight that you are a top-ranked university with the kind of program that would interest them. They may not be familiar with your school, or the options you provide, but a well-written awareness ad could entice them to explore further and request information – or a contact.
An awareness ad can be a search, display, or social media ad. A search ad should include general information about your school and the degree program. You can peak their interest with words like – "No GMAT" or "Fixed Tuition". You could try highlighting degree length or overall ROI. Display ads should include welcoming or interesting images that will catch the browser's eye. The Call to Action (CTA) is usually a term such as "Learn More" and will lead to the homepage of your degree program's website. This way candidates are given the opportunity to educate themselves on your programs.
Things to remember when creating an awareness campaign:
Don't overcrowd ads with information but use brief enticing headlines
To optimize your budget, work on your geo-targeting and audience demographics
Employ an omni-channel campaign incorporating all of the marketing platforms including Google Ads, social media, your website, and SEO
Most leads will not convert with an awareness campaign alone, but it is a critical step in filling the funnel for the long term. And a foundation for remarketing campaigns to activate.
Remarketing Campaigns
There may be times when you're browsing Facebook and you suddenly start to see ads from a website that you have visited in the past. This is an example of a remarketing campaign. A remarketing campaign is aimed at a much narrower audience. These individuals have already visited your website but haven't yet converted.
A remarketing campaign typically has a much stronger sell. You can encourage prospects to apply by stressing your admissions deadline, advertising an upcoming event, or encouraging them to contact an admissions counselor. Remarketing campaigns can have a CTA of "Apply Now!", "Download our Brochure", or "Contact Admissions".
Things to remember about remarketing campaigns:
Start remarketing with your top performing ads
Back up your results by tracking your campaigns
Choose the optimal frequency cap to not over saturate your audience
Great marketing plans start with a solid awareness strategy to capture the top of the funnel audience, followed by a strong remarketing campaign strategy to nurture those leads into conversions. Remember the audience that is being retargeted has already been imprinted with your brand, and has shown a level of interest – now you have a foundation from which to build on.