BY Anthony Campisi | March 16th, 2023
How well are you communicating about financial aid?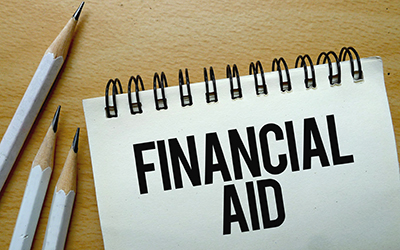 Financial aid. It's a critical piece of the admissions process and a key deciding factor for many, if not most, students. Learners today—both undergrads and post-graduate degree seekers—are looking for solid information upfront about the cost of attendance and financing options before they commit to exploring a school. They have less time for complications and a strong desire to chart a path that will lead to accomplishing their goals with less debt.
Our team visited 10 different college and university websites searching for information on financial aid, just like a prospective student might do. Here, we're including some trends and tips about how your school can craft useful content and a clear communication strategy around financial aid to help create more accessibility for your prospects.
Make it easy to find
Ensure that financial aid is housed within 2 clicks from the homepage. Many schools include this information under the Admissions menu. It is critical that students can easily access both the cost of attendance and ways to pay for their college experience so they can reference this information during their decision-making process.
Differentiate aid sources
Although it may be second nature for many admissions professionals who are well-versed in financial aid, it can be confusing for students, especially if this is their first time navigating the complex web of information. Be sure that you include a brief explanation about the differences between financial aid, merit-based aid, loans, grants, scholarships, and additional sources like military veteran benefits. Include as much eligibility information as possible to combat assumptions and clearly outline your school's unique offerings.
Eliminate too many external links
While some links like FAFSA may be required, try to eliminate the number of links away from your site. Ideally, your informational page should serve as a one-stop shop for anyone seeking financial information so they can bookmark it for future use.
Provide a step-by-step guide including clear deadlines
For many students, financial aid can be overwhelming. The more information you can provide in a simplified step-by-step guide, the better. This reassures students that their education can be affordable and accessible while reducing their frustration during the research process.
Provide detailed tuition information
In today's economy and society, transparency is key. Make sure that you provide the clearest possible picture for your students about the cost of attendance. This includes tuition and all additional fees. And while you may not have specifics about variable items like lodging, food, and the cost of travel for residencies, it's great to provide a checklist so they can see the full view of their anticipated financial responsibility.
Communicating about financial aid is not only critical on your website, but it's also important to include in your admissions materials and emails. Encourage conversations with the recruiting team and make financial aid an easy topic to discuss by offering support and resources.
If you need tips on creating a web presence and targeted communications surrounding financial aid at your school, GPRS can help. We've consulted with over 70 institutions on crafting the right messages to meet prospective students where they are in their journey and remove barriers to decision-making. Contact us today to start the conversation.