BY Anthony Campisi | June 17th, 2021
Communications as the pandemic winds down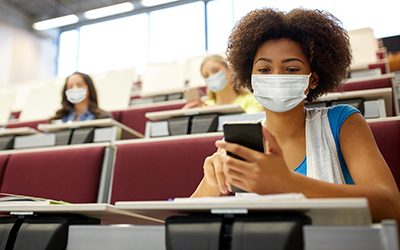 At this point in the pandemic, many may be excited that there is a light at the end of the tunnel. As states are beginning to open up and drop capacity restrictions, schools are thrilled to be planning for a Fall semester that is going to look more normal than it did last year.
Although this news is encouraging, your prospects may still be in a state of limbo, wondering if now is the right time for them to return to school or pursue an advanced degree. They may also have many questions as things are continuing to evolve.
It's important for your school to address the questions on everyone's minds – even if your answer is that "it's a work in progress." Your prospects need to know that you are thinking about the same things they are — and that you are available to address their concerns. Your admissions staff is the front line in communicating with prospects so arming them with consistent and unified communication strategies is critical.
Address the big questions
A recent article in Higher Ed Times recommends that schools account for questions regarding the pandemic. This not only includes safety measures, but also what to expect for class delivery and even post-graduation opportunities. Although the answers may still be a moving target, it's important to address things like:
Mask policy
Big group gatherings
Class delivery (in-person, virtual or hybrid)
Professor office hours and interaction
The job market
Return on investment
Over-communicate
Going back to school is a huge decision involving a significant financial investment and many complexities. It can be similar to making a decision about medical care, such as a surgery or treatment plan. And sometimes getting a second (or third opinion) is necessary. The bottom line is: the more information the better.
Your prospects need as much information as possible – especially right now – because things are changing so rapidly, and they may still have a lingering level of uncertainty. Communicating consistently and clearly can help them feel more comfortable with their decision to choose your school. Here are a few strategies you can try:
Develop a landing page that addresses all concerns about campus life. This can be in the form of an FAQ page that you modify as things change. Link to it in a banner at the top of your website so it is easily accessible.
Update your automated communications flow to infuse key information changes in each mailing, email or text.
Launch a social campaign addressing key questions in a concise way.
Host a webinar that includes Q+A with admissions or program managers and then post it online and link to it in communications.
Arm your admissions staff with talking points so that all conversation touchpoints are consistent.
Be available
As people are getting out more and the economy is showing signs of rebounding, your prospects may be both excited about moving forward and uncertain about their future. Their barriers may still include questions about their work life, school for their kids, the job market, financial stability and even how comfortable they are with large groups of people.
Being available at this juncture is extremely important and could be a critical piece to helping them decide on your school or a competitor.
If you happen to miss a call or an email, try to adopt a 24-hour return policy.
Establish automated responses.
Answer questions as quickly as possible or let them know you're looking into it.
Be honest, open and available to ensure that you don't lose them.
Although these practices may seem like second nature to any admissions or marketing professional, it's important to note that stepping it up a notch in the current environment will pay off.
GPRS is your communications partner
Working with a firm that has a deep understanding of the educational landscape can help you determine what types of communications are right for your school. GPRS tracks industry trends and has a long history of helping schools develop strategic enrollment strategies that get results. Start the conversation today.