BY Anthony Campisi | January 31st, 2022
A content marketing strategy playbook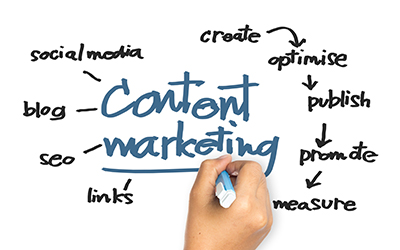 Content marketing. It's the current buzz. It's defined in many ways. It's absolutely critical for your school. So how can you integrate content marketing into your recruiting plan? Let's dig into defining content marketing and formulating a plan to include it in your admissions strategy.
Defining content marketing
Content marketing means many things to many organizations. If you ask any marketer on any given day, you may get a different response. That's because the term itself is so broad. In general, start by asking these questions:
How can you optimize your current content to get as much mileage out of it as possible?
How can you proactively plan and create content that can go the distance?
Cohesive content marketing can enhance your brand and support your strategic pillars. When it's done well, it can help build smooth customer experiences as you focus on creating, testing, editing and constantly improving digital content that spans multiple audiences and channels.
Optimizing current content
When you think of developing a content marketing strategy, start with what you have. Find out if there are ways to make your existing assets work harder for you.
For your website, this means optimizing for SEO, evaluating your customer experience and the flow of information on each page, determining if your landing pages spur action and if your content is generally organized in a way that makes sense to the reader.
For your assets, this means inserting them in multiple places for a cohesive messaging strategy. Assets could be any piece of content you've created that aims to resonate with a prospective student—infographics, videos, blogs, employment reports, alumni stories, news articles, viewbooks, the list goes on. It can also apply to past social posts that you can aggregate into meaningful collections. Start by grouping your assets by theme—for example, ROI, program benefits, faculty, and alumni success. Next, create a planned editorial calendar to deploy themed content by month in a coordinated effort via social, email, features on your website, and any other channels you are using.
Planning new content
As was mentioned above, an editorial calendar of the themes you'd like to promote can be extremely helpful in creating a consistent message for your prospects. Start simple by planning one theme for the next 6 months based on both your marketing strategy and the benefits of your program. After you've assessed what exists for each theme, you can determine where the gaps are and where you need to create something new.
Another way to plan new content is to brainstorm about the story you want to tell and decide on creating a hero piece that can be disseminated in multiple channels. Hero pieces are the kinds of content that may cost more but make a big impact. For example, a video series about distinguished alumni, a compilation piece of ROI stats, etc. When marketing and admissions are aligned on creating pieces like this, everyone benefits.
If your team needs help assessing your current content, creating a plan to get more mileage out of your assets, creating new pieces, or planning themes, contact GPRS today. We can help you develop a plan to optimize your communications based on your school's strategy.