BY Anthony Campisi | April 17th, 2019
Conversion Challenges: Do you have the right people in your funnel?
Let's examine your leads, prospects and future students.
Top of the Funnel = Leads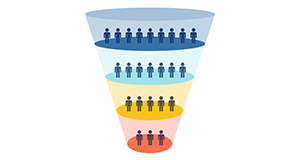 Depending on who you talk to — marketing, admissions, administrators, faculty — these may be the most important people in your funnel and the ones that deserve the highest dollar investment. If your leads are qualified, engaged and ripe for the opportunity at hand (your degree program), they will be much more likely to turn into prospects and seated students. Sounds obvious, right? Then why are there so many temptations to shortcut the lead generation process?
If you've ever purchased a list and then watched your email campaign bounce rates triple, or tried to "cast a wide net" with a digital advertising deal that seemed too good to be true, you've fallen prey to marketing advice that leaves you with fewer dollars and lots of time wasted. A laser-focused digital strategy that utilizes multiple platforms, compelling ad creative and targeted media may seem insurmountable with your time and budget constraints, but in the long run it can pay off. In fact, 500 quality leads will serve you better than 10,000 expired email addresses you've obtained with antiquated mass marketing tactics. And you'll see the fruits of your labor as your leads convert into the middle of the funnel.
Middle of the Funnel = Prospects
This is where leads turn into real prospects — if the strategic lead generation strategy you implemented at the top of the funnel worked. The middle of the funnel is where the churn begins. Prospects are beginning to ask themselves questions like: Is it time to go back to school? Should I continue to work while I earn my degree? Is an in-person, online or hybrid program right for me? What can I afford? And this is also where you step in to answer those questions.
A targeted email communications flow to address barriers can speak to their concerns. A video or other media on your website can help them decide which program is right for them. A personal outreach or an invitation to an event from the admissions staff or call center can set their minds at ease. If you're making these efforts at engaging them and you've spent the time and money to make sure they're qualified, you'll find that the transition from lead to prospect is much smoother.
Bottom of the Funnel = Future Students
As your prospects continue the decision making process, your team's efforts are pivotal in converting them. It does seem however that it is much easier to convert the right candidate than someone who was never right to begin with — even if they appear ideal on paper. See, the way that prospects appear on paper is very different from their current mindsets. They are more than just numbers, demographics and job titles. They are complex people with real lives, families, circumstances and ambitions. When you market to them, it is imperative to meet them on their journeys — where they are both physically and mentally.
If you focus your efforts early on, you can better connect with the right people at the right time — which is where the magic happens. Once they make it to this point in the funnel, they've already been qualified by a fantastic marketing strategy and are ready to be pulled through the funnel by admissions. And congratulations, you're on your way to filling your next class.