BY Anthony Campisi | March 17th, 2020
Lessons learned during a time of forced change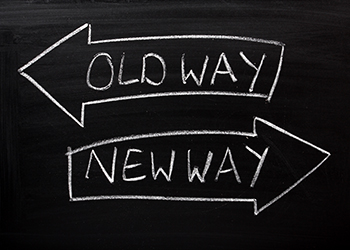 In the wake of the recent global pandemic COVID-19, or coronavirus, colleges and universities everywhere are being forced into change. It's uncomfortable, unprecedented and seemingly without end as things are developing rapidly. Although no one can predict how the next few weeks or months will unfold and it's uncertain how this will impact the higher ed industry specifically, here are a few lessons we've learned from working with graduate programs during this evolving time.
Keep calm, and carry on – it's the new mantra
This is more than a phrase that you see on t-shirts and screensavers. It's a mantra that many across the higher ed industry are adopting right now. With the advent of fully remote teams, classes going online and campuses closing across the globe, it can be easy to slip into the mindset of worry about closing out the semester, recruiting for the next class and losing valuable momentum with your marketing efforts. So how do you ensure you're prepared for this rapidly changing environment? Take things one day at a time. Although your team may be held accountable for a lot, remember that everyone else is in the same boat.
You are more nimble than you previously thought
If there is anything that can force you into change, it's an international pandemic that threatens the health of your team, your neighbors and your country. As the CDC is urging people to create social distance because of the coronavirus, many teams have gone fully remote and students have been ushered off campus in an attempt to "flatten the curve" of new cases.
Universities were some of the first organizations to go remote for many reasons. Although social responsibility tops the list, many schools were confident in their ability to go remote because of the technology they already have in place. Students can take advantage of online learning, tools and remote classrooms. And although staff is traditionally in the office to assist students and keep things running smoothly, it may be surprising how efficient people are at working from home, responding to issues and coming up with contingency plans. You may have realized that you're more nimble than you thought when forced into change and it's impressive. And for schools who didn't have as many online resources in place, it's a great time to learn from your peer schools to prepare for the future of online learning.
Online classes that you've pushed for are happening
For the marketers, admissions staff or program managers who have been pushing for online course offerings to position your school more competitively in the market, the day is finally here. Whether you've planned for this for two years, or you're planning for it right now out of necessity, realize great change can often come out of great adversity. Professors and instructors across the globe are being jolted into action by placing their content online, finding ways to connect remotely using technology and thinking differently about course delivery. Although there may be glitches and everyone is figuring it out together, you'll look back soon and realize that you made great strides that you can continue into the future.
Your students (and prospective students) want to know your plan
At the moment, your personal inbox is being flooded with emails from various companies, letting you know what their plans are for slowing the spread of the coronavirus and ways they'll modify their business to keep you safe. These emails may be somewhat comforting to you. Your current students and prospects need to hear from you as well. They want to know how they will continue coursework, graduate on time and meet with their teams. Prospects want to know if you're still planning on starting a new year, how this downtime will affect their application, if preview days will be rescheduled and how to take admissions tests when they're being cancelled. The most important thing you can do right now during the coronavirus pandemic, even if you don't have all the answers, is to instill confidence and set expectations.
Let students know you are working on a plan and will follow up with them soon.
Establish one or two key communicators and consolidate emails and messages.
Send updates as you have them with clear direction and action for them to take.
Pause existing automated email communication flows so you're not sending inconsistent messaging.
If you are searching for other ways to manage the change within your marketing, recruiting or online program management, do not hesitate to reach out to GPRS. We are here to help.