BY Anthony Campisi | November 29th, 2022
Develop a strategy to reach prospects looking to upskill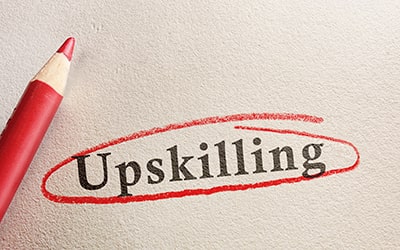 Now more than ever, people are upskilling to keep up with the demands and pressures of the continually evolving economic landscape. To position your school as a partner along your prospects' career paths, you will need a clearly defined strategy with multiple touchpoints showing how your program can help develop their talents and skills to succeed in the business world today and in the future.
Define your audience
To create a strategy that is aimed at reaching prospective "upskillers", start with defining your audience. Think about constructing mini-personas and matching them to the programs you offer. For example, an IT professional that aims to manage a team may need to layer strategic leadership training on top of their deep technical background. For this learner, you may focus on a certificate program or management class within your Executive Education department. For a nonprofit professional seeking a corporate job, you may recommend an MBA to give them a deep dive in finance and operations.
Hone your strategy
A majority of professionals who are seeking to upskill may not see the value in a full-time degree, or even paying out-of-pocket for a program that may be less expensive online or have been previously offered in-house at their company. Your communications strategy can show them how your programs can contribute to their long-term career goals. Try highlighting alumni stories, reinforcing ROI and defining the exact path and time commitment. Focus on outcomes to address barriers in your prospects' decision-making process.
Emphasize soft skills
Today, some of the most in-demand skills are related to how individuals present themselves and manage interpersonal relationships. Alongside your program positioning, be sure to emphasize the soft skills that will take any employee the distance, including:
Strategic management
Complex problem-solving and reasoning
Sphere of influence
Leadership
Emotional intelligence
Creativity
Analytics
With a few small updates to your marketing strategy, you can reach the upskillers who are seeking a new path.
If your team needs help, GPRS can help you construct a strategy, develop personas and create communications to meet your prospects where they are in their journey. We have worked with over 60 colleges and universities and have insights into digital marketing strategies and how to leverage your school's unique selling points. Contact us today to start the conversation.