BY Anthony Campisi | December 19th, 2019
How to choose the right digital advertising platforms for your prospects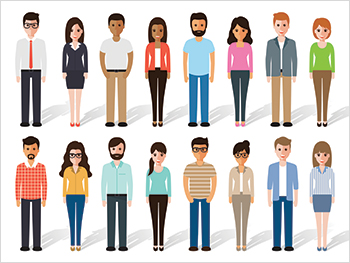 When you ask any marketing or admissions team member what their key goals are for the coming year, almost all of them have these two at the top of the list: increase quality/quantity of leads, and increase enrollment. And many will follow up with the statement that they will be relying more heavily on digital advertising to help them reach these goals.
Although it may seem tempting to jump head-first into posting on Instagram, or creating a YouTube channel for all of the videos you are going to develop, it's important to consider a few things before starting down this path. The strongest digital strategies involve communicating with your prospects where and when they want to be reached – this gives you a better chance of getting them to act. Here are 4 key decision points to help you select the right digital advertising platforms to connect with your prospects.
What is your strategy?
When you are considering where you spend your marketing resources for the coming year, take a step back and evaluate your school's marketing strategy. Maybe you are responsible for building it, or you are executing tactics in alignment with it. Either way, knowing what you're trying to accomplish can really help you determine what type of platforms to choose.
Brand awareness – If you're building a new brand, refreshing an existing brand, or working to establish top-of-mind awareness with a new or current audience, you may want to consider using tried and true platforms with large followings, like Facebook, that have a track record of providing a high number of impressions. Also, display advertising can be critical for extending your reach as far as possible.
Lead generation – If your brand is established and you are looking to generate more (or higher quality) leads, a B2B platform like LinkedIn can serve you well with either paid ads, or posting content through groups or conversations. It's also great for event registrations since many professionals who are active in their careers are checking this platform daily. You can also run very specific targeting campaigns with Google Ads which also gives you the ability to ramp up or scale back at key recruiting times.
What is your target?
When you are thinking about where your prospects are hanging out online, it's important to consider:
Generation/Career Stage – Although age isn't the only factor, it is extremely important for online habits. If your prospects are 30 and under, you may consider Snapchat or Instagram. LinkedIn and Facebook may be your best bet for the 30-45 set. For 45-60+, Twitter or LinkedIn are solid choices because they also deliver news content. For all ranges, targeted Google Ads campaigns can be successful.
Gender – Although the platforms may not change as much, the content you use can be tailored easily to men or women and can make a huge difference in interaction when paired with the right channels.
Geographic Location – With many social media and digital advertising tools, you'll want to take advantage of geo-targeting or geo-fencing. These strategies let you focus on certain zip codes, cities or states and can give you an advantage over less sophisticated competitors.
An experienced digital firm can help you determine the demographics of your current audience and craft a plan for reaching them.
What is your competition doing?
A competitive analysis is a key piece to developing any strategy, especially in higher ed where the market is much smaller than say, online shopping. When you're assessing competitor schools, be honest with yourself and make sure you're compiling a list where your prospects might actually go if they don't attend your school. It is easy to group your school in with aspirational schools, or schools that are at your same level of quality, but across the country. But, it may be that the private university down the street is actually responsible for taking 20% of your prospects each year…pay attention to the shifting landscape.
When you've narrowed in on a set of realistic competitors, start following them on social media, signing up for their emails and monitoring their activity on YouTube. To keep the data from getting overwhelming, try writing down the top 2-3 findings per week about each school. This can help you determine what your prospects are seeing and how you play in the same arena and begin to differentiate your school.
What about content?
We all know that "content is king." Without the right content, any strategy will fall flat when it comes to generating the kind of attention you want. And low-quality content can have a negative effect if it's not executed properly. Here are some questions to ask yourself when deciding on what content to create:
Does your team have the ability to create well?
What kind of content do you have that you can repurpose
What kind of content does your chosen platform support?
How can you align your resources to create good content for your chosen platforms?
If you can't generate the content your chosen platform requires, could you reconsider your approach?
If you need more ideas on how to select the right #digitaladvertising channels for your target audience and personalize #communication and content for your prospects, contact GPRS today. We can help you develop a plan to fit within your strategy and budget.