BY Anthony Campisi | August 30th, 2022
Video content: What's the right mix for your digital advertising strategy?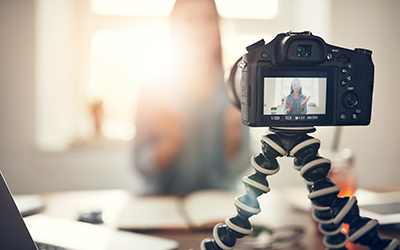 So, you've thought about using video content in your school's digital advertising strategy, but you're not sure how to get started. What's the right length? How can you use videos on social media? In a past article, we covered embracing the video advertising trend. Here we go into more detail on how to do it for your school.
TYPES OF VIDEO
Short-form video
A short-form video is ideally less than 90 seconds. The content is designed to quickly convey top-level points or address a question. It will include a call to action that is clear and drives your prospect to learn more, ultimately landing them in your CRM for future communications. You can use these for simple tasks like showing a facility, explaining a program track or introducing clubs or activities. You can also use willing faculty members to give a class synopsis or explain the benefits of a capstone project. Although 90 seconds may not seem like enough time, there's a lot you can do visually to convey your message so you don't have to talk quickly or condense your script. Another option for short-form videos is to break up an existing long-form video into 30-90 second snippets so you can utilize them separately within your digital advertising campaign.
Long-form video
A long-form video is ideally less than 5 minutes. The content is designed to provide a deep dive into a topic that needs more explaining. For example, you may choose to cover your MBA specializations, differentiate your Executive MBA tracks or create a tutorial on your admissions process. These videos may also provide space for you to roundup alumni success stories or provide a window into the type of students that attend your program. Regardless of the topic you choose, be sure to create visual interest by varying your backgrounds and infusing other digital media like photos or drone footage. Five minutes is a long time for viewers to dedicate so you want to be sure you are holding the attention of your prospective students.
Recorded events
In addition to creating strategic video content that aligns to your marketing pillars, you can richen your YouTube channel by adding recorded webinars with admissions staff, sample classes with faculty or program staff discussing frequently asked questions. Although you may not promote these videos via social channels or as part of your digital advertising, creating a library of useful tools can increase your credibility and serve as a resource for prospects.
TOPIC IDEAS
If you're thinking about getting started with video, or you need to expand your short- or long-form video offerings, here are some ideas to help you with the brainstorming process. Try either scripted or unscripted videos on the following topics.
General campus tours
Facilities tours done by students
FAQs based on top search terms for your school
Student/alumni success stories
Get to know the faculty/staff
About the program
QUICK TIPS TO LEVERAGE VIDEO:
Load all videos onto your YouTube channel with proper tagging so you can leverage SEO.
Categorize your channel by what your users are looking for, i.e. general school info like campus tours, program, faculty, student testimonials, success stories, etc.
Create a plan to disseminate your videos as part of your larger digital marketing strategy. For example, choose a topic to focus on each month and push out themed content across all social channels. Link to videos within your digital ads. Prominently place your videos on the website with corresponding topics so they are easily searchable and appear relevant.
Ensure your videos have a clear CTA that will drive prospects to take action.
If you need help determining how to use video content in your school's digital advertising strategy, GPRS can help. We have worked with over 60 schools and have insights into program branding and how competitive schools are using digital advertising to position themselves in the market. Contact us today to start the conversation.