BY Anthony Campisi | December 14th, 2021
It matters where your digital campaign lands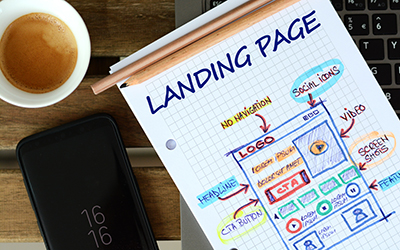 When was the last time you were interested in a product or company and clicked on an ad hoping to learn more, but the final destination didn't offer what was promised? Maybe you were directed to a company's homepage or a general page with very little information. Or maybe you were required to fill out such a long form to get to the next step that you gave up. This can be so frustrating, especially for people who are seeking specific information about a particular degree or program. You don't want your prospects spending too much time searching for what you promised them in your ad — and you certainly don't want to lose them once they've shown interest.
Where you send people in your digital campaign matters. Here are a few tactics we've employed over the years of working in the higher ed industry.
Make sure your call-to-action is clear
When the call-to-action (CTA) of your school's digital campaign is to "learn more" or "request information," it's important that your landing page facilitates that process. Think of your landing page as a win-win for both prospects and your program because they get to learn more about you, and you get to learn more about them. First, be sure your CTA is prominent on the page. Some people may want to go straight to filling out a form, while others may want to read a bit more before committing. Include clear direction on what the form is and what they will obtain by filling it out. While it's recommended to stick to 4-5 fields in an information capture form, be sure that you're getting what you need to fully be able to communicate with them.
Apply a solid content strategy to build your page hierarchy
When you're constructing your landing page, think about it from your prospective student's perspective. What are the 2-3 key takeaways you want them to know about your program? Lead with strong features and benefits and then present them with additional supporting media. If you can vary the type of content you're using, like videos, infographics, photos, or alumni spotlights, that's a bonus because it keeps readers engaged and gives them a sneak peek into your program. And remember, the CTA should always be displayed prominently both above and below the fold.
Keep it short and sweet
For digital campaigns, keep in mind that many people will be viewing your information on a phone. Plan to include content that doesn't require your readers to scroll for too long. Try using short sentences, bullet points, and clear directions for what you'd like them to do. Make sure your forms are mobile optimized and can quickly and easily be filled out on a phone or tablet.
Require them to give you some information, but keep it casual
There's a possibility that your prospects are looking at multiple schools at different points during their selection journey. Keep in mind their barriers to commitment and realize that asking for too much information upfront can scare people away. With most digital campaigns, you're beginning at the top of the funnel which means your goal is to get qualified leads to subscribe to your list, not submit an application. Assuming your campaign is targeted properly, you've already done the initial step to find the right candidates. Now, make sure your landing page draws them into giving you enough information for you to contact them.
With these few simple steps, you can optimize your campaign landing pages to make sure your prospects make it to the next step in the funnel.
If you're looking for an agency that is well-versed in digital campaign planning, set-up, tracking, and real-time optimizations, GPRS is your partner. We can help you create a strategy to collect data and track leads so you can fill your funnel with qualified leads. Give us a call to start the conversation.