BY Anthony Campisi | September 30th, 2021
Email basics – finding ways to stay top-of-mind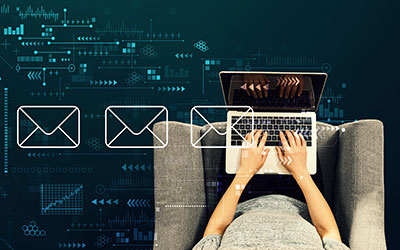 Perhaps one of the most important middle funnel activities your school can do is consistently communicate with your leads. One way you can ensure that your school stays top-of-mind is to remain in their inboxes. Heading into the recruiting season, one of the key things you can do to enhance your marketing is to be sure your email campaigns are cleaned up, targeted, and automated.
In this roundup, GPRS offers advice on ways to maximize your CRM, create a plan for email communications, and how to track and automate the process to ease the burden on your admissions staff.
Maximizing your CRM
While some prospects are super-engaged and ready to act right now, there are others who are just starting their search and want to "browse." So how do you strike the balance of giving everyone what they need, when they need it, but not turning them off? The answer is a structured plan. Even for the hottest prospects, you want to be sure you're not coming on too strong.
For all prospects, consider a base weekly email campaign, or a communications map that is auto-triggered to send messages every 10 days (following lead entrance into the system). For the active leads, you can layer on a calling or text campaign. By mapping out your communications, considering your audience's motivations, and varying your frequency, you can find ways to connect with your prospects on their terms. Learn more.
Nurturing your leads
The beauty of most CRM (Customer Relationship Management) systems is that they give your school the ability to automatically connect with your prospects over a set period of time via email with no manual labor involved. Using these tools can help you nurture your leads so they feel important and give them the information they need to take action. Here are some creative ways on how to use CRM data to keep engagement high and re-energize prospects that may have fallen off the radar. Learn more.
Automating your email plan
As you plan for the upcoming recruiting year, you'll want to make sure your email plan is automated, set up for consistent communications, and tailored to your prospects' needs. This can ease the burden on your admissions staff and give your prospects confidence that they can expect personalized customer service from your program. Learn more.
Tracking effectiveness and ROI
When you're using an automated tracking system that ties in with your CRM and aggregates all of your marketing and email data in real-time, you can use that information to optimize your tactics throughout your recruiting season. When you can track every program inquiry back to specific marketing campaigns and messages, you can see where they came into the system and how they interacted with your emails after they arrived. This is a great way to match your enrollment data back to your marketing efforts to prove ROI at the end of the year. Learn more.
As you're refining your email communications, determining the right cadence for connecting with your leads, and working on ways to track your ROI, having a trusted partner by your side can enhance your success. GPRS has worked with schools to create, deploy and optimize their email campaigns. Start the conversation today.