BY Anthony Campisi | June 29th, 2021
Is it time for an enrollment growth diagnostic?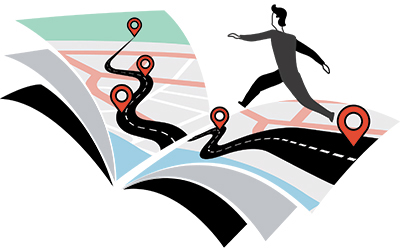 As you are wrapping up one recruiting season and preparing to begin a new one, you may be breathing a sigh of relief. You've made it through one of the most difficult times in recent history and regardless of the impact on your bottom line, your team has had many accomplishments. But, is it time for an enrollment growth diagnostic?
How do you know if you're poised for growth? And are your upcoming enrollment targets attainable? Most importantly, are your tactics sustainable, or is it time to pivot to address new challenges?
Although it may be tempting to stay the course, now is the best time to dive deep into how your marketing and recruiting strategies are working. The results you find can help you determine what to continue, start or stop doing.
Why a diagnostic is important
The goal of a diagnostic is to assess how your programs currently market and recruit so you can increase effectiveness. When you dissect each element of your strategy with an objective viewpoint, the outcome can help you develop a roadmap. That will ultimately lead to continued growth and sustainability.
What to examine
We recommend auditing your marketing and recruiting targeted at growing enrollment at the top and middle of your funnel.
Top funnel: Start by examining your strategy and audience targeting, move on to tactics such as media mix and creative, and end with evaluating your metrics.
Middle funnel: Look at your conversion process and the platforms you use to yield students such as your CRM and communication touchpoints. You can do a thorough review of the data in your CRM to determine impact.
Depending on your school's appetite for optimization, you can also evaluate data at the program level. You can look at audience personas and review how your internal teams work together, set goals and gauge success.
What decisions can be made
Once you've collected the data, you're ready to create your roadmap for optimization. This may seem daunting; however, you can follow these general guidelines to help you with the process:
Categorize your findings: Group your findings by what to continue-start-stop doing. From there, you can assign priorities to what enhancements can be done now vs. later.
Form an implementation plan: Detail your next steps from strategic to tactical. Assign timelines, responsible parties and KPIs for periodic check-ins.
Document how you will manage change: It is important to acknowledge that even the best laid plans can morph based on circumstances and changing environments. Find ways to build flexibility into your plan and checkpoints to assess whether any pivots are needed.
The GPRS Enrollment Growth Diagnostic
GPRS is a specialized firm with deep expertise and a singular focus on growing enrollment revenue. Over the past 20 years in working with over 60 colleges and 150 graduate programs, we have identified trends, challenges and successful strategies for filling classes. We believe that growth comes from change and are offering our clients a unique opportunity to gain new objective viewpoints into their successes as well as blind spots that may inhibit progress. When GPRS performs a diagnostic on your program, we'll dig deep into every aspect of your marketing, recruiting, goals, successes and challenges. We'll emerge with a roadmap that outlines a sustainable path to success for your program with a solid plan that your team can implement.
If you think an enrollment growth diagnostic might be right for your school, let's start the conversation today. By the time the next recruiting cycle comes around, you'll be positioned for success with greater insights and a roadmap to address your challenges.