BY Anthony Campisi | April 13th, 2022
The secret to successful graduate program marketing
"Strive not to be a success, but rather to be of value." — Albert Einstein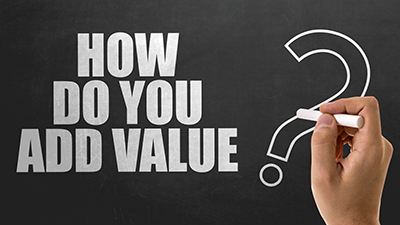 As marketers of the higher ed industry, success is often what we focus on. Salaries, promotions, and title changes are king — and we often use them as the reported end goal to show what our students will "become" to entice them to attend our programs. But in marketing our programs, we must remember to strike a balance when composing our messaging and lead with how success is obtained — by adding value and contributing to important conversations in meaningful ways.
Why a degree?
There is an overwhelming amount of data showing that an advanced degree can advance your career. To understand what's important to your prospective student though, it's imperative to go beyond what title they are striving for and learn what's behind their desire to pursue higher education. After all, it is a large investment of both time and money. Maybe they are in an industry that doesn't suit them or come naturally to them. Maybe they have hit a ceiling with their current career path and need to expand their knowledge base. Or perhaps, they even have aspirations to be in the boardroom, but they need help articulating their points to add to the conversation.
To meet your prospects where they are in their journey, it's important to dig into what they need to make it to the next step — and usually this can start with finding a way to add value in their current situation, or be seen in a different light. A degree program can set them on a path to achieving these goals. In addition, your prospects may be seeking professional fulfillment that adds value to their lives and makes them feel like they are making a difference. Therefore encouraging self-exploration in the context of business is key.
Here are some questions you can aim to address in your marketing messages based on your prospects' personas:
Where are you on your career journey?
What does success look like in data: salary, title, promotion?
What does success look like in working relationships?
What do you want to gain from your career?
How do you want to be seen by your peers, team, and management?
Why a degree from your institution?
Once you've honed in on the motivations behind why your prospects are pursuing a degree, it will be easier to connect your program features to what they are seeking. You can start this process by defining your school's unique selling points, showcasing the tools you're offering, and then connecting them to a direct benefit for the student. For example:
How is your program unique from the competition?
How does the curriculum focus on both the quantitative and soft skills needed to be influential?
How can your program prepare your prospects to add value in a professional setting?
How can your program add value to your prospects' lives and career paths?
What will your prospects gain beyond extra letters behind their name?
Connecting the dots
In a market saturated with competition, it is key to connect with your prospects on multiple levels that show you understand them, their goals, and motivations — and that you can help them enhance both their personal and professional lives. These steps are often the secret to successful graduate program marketing.
If you need ideas for uncovering industry insights, developing a competitive analysis, or creating meaningful marketing strategies, contact GPRS today. We can help you develop a plan to fit within your strategy and budget.