BY Anthony Campisi | January 31st, 2023
Higher ed digital marketing trends to watch in 2023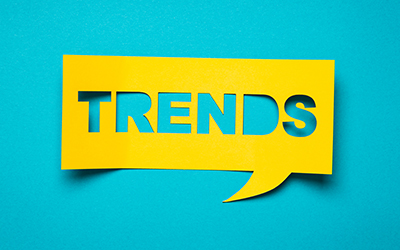 At GPRS, we are continuously tracking trends in both higher education and digital marketing so we can bring our clients the most updated recommendations to help meet their enrollment goals.
As you are planning to seat your next class, we can help you identify ways to use new and trending techniques to ensure you stay relevant and top-of-mind with your prospect pool. Below are our top 3 higher ed digital marketing trends to watch (and try) in the coming year.
Video marketing
Whether in short form or long form, be sure you harness the power of video in your ongoing marketing strategy this year. As your marketing team may already know, storytelling is one of the most important ways that schools are connecting with prospective students. And what better way to do that than to capture a slice of life, a real student's perspective or a faculty member in action? Once you've determined how video fits into your strategy and how you will use it to tell your school's story, there are multiple channels you can use to get as much mileage as possible out of your content. You can display your videos in their entirety on your website, post snippets to social media and even include links in your email campaigns.
Conversational marketing
According to HubSpot, conversational marketing is changing the way organizations speak with their customers by making interactions seamless and quick. Additionally, these conversations happen on the prospect's timetable and can be personal regardless of the scale at which they are happening. In other words, in the age of "live chat", customers expect to be communicated with how, when and where they prefer – and they want information right away. If you have the technology to conduct a live chat, that's great, however, many schools aren't there yet. That's ok. You can use LinkedIn to communicate with prospects via direct messaging or other live messaging apps, according to Harvard Business Review.
Highlighting career outcomes
Recently, we discussed why employment data matters in your marketing. During a time of market uncertainty, your prospects may be looking to advance or switch industries altogether, and they may (or may not) see an advanced degree as the key that can open the door to their next career move. Finding a way to position your program as a trusted partner along the journey to a rewarding promotion or management role is critical. Showcase the value of your program through the lens of career growth by sharing alumni testimonials, including promotion data, and reinforcing how a broadened perspective can help students speak the language of business.
As your strategic goals and tactics to support them fall into place, ensure that you have a partner that can keep you top of mind with your prospects. GPRS has worked with over 150 graduate programs and analyzes benchmark data to determine the best ways to market and meet enrollment goals. Need some help in your upcoming recruiting year? Contact us today to start the conversation.