BY Anthony Campisi | April 15th, 2021
Finally, some good news for higher education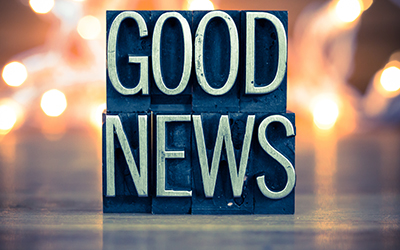 GMAC's 2021 mba.com Prospective Students Survey Report has reported some great news for higher education. While the pandemic is still a major part of our lives, vaccines and dropping case numbers are giving hope after a year of uncertainty and chaos. What does this mean for the higher education industry, and your programs specifically? As prospective students are emerging from their pandemic hazes, concern about the virus is waning. Prospects are showing more interest in graduate education.
Read on to find out about recently reported trends and advice on how to communicate to your prospects amid these positive shifts in the market.
Women are on board with remote learning
While the pandemic has impacted everyone in different ways, studies show women have been disproportionally affected. While working from home, women often shoulder the additional responsibilities of managing remote learning for their kids. Many woman have put their career aspirations on hold and moved into survival mode. But restrictions are starting to loosen and there's a light at the end of the tunnel. Women are starting to focus on their next steps professionally. They are considering higher education as a means to give them a boost.
According to Sangeet Chowfla, president and CEO of GMAC, "It is especially encouraging to find female candidates seeking advanced business degrees for career advantages despite the unique challenges and barriers they faced due to COVID-19." But they still need flexibility. While considering graduate programs, many women say they prefer online programs. They consider them to be equivalent to in-person options as it relates to education quality, career opportunities and networking.
So how can you communicate to your female prospects during this time?
Realize prospects are looking to brush up on professional "soft skills." Highlight your leadership development program and how it can further their skills as leaders.
Focus on how an advanced degree can make them competitive amongst peers, especially when emerging from a career shift or pause.
If your program is online or hybrid, be sure to communicate specifically and simply about the logistics of course delivery, group work, networking and opportunities to interface with client companies. Women want to know what their time commitment will be.
If your program is in-person, take the time to offer personal consultations that facilitate a two-way conversation.
International candidates prefer on-campus learning
One of the main drivers of international students' ambitions to pursue advanced degrees is the opportunity to work and network outside their own country. According to the GMAC report, amidst the pandemic, over 70 percent of international candidates reported they still plan to continue pursuing an in-person degree experience vs. their domestic counterparts (52%). In addition, the U.S. is a top choice for students from India and Canada. There has been a small drop-off in prospects from China, which could be due to political tension and more business school programs in Asia.
So, how can you communicate to your international students during this time?
Continue to utilize the media and communication strategies you've used in the past. Although nothing about the past year has been "status quo," you can rest assured your international candidates are still interested. They want to hear from you.
Enhance communications about internships, networking and job opportunities. These are the key drivers to their decision making, so be sure to highlight these.
If your program is online, let them know there are still ways to network with their cohort. They can attend recruiting events that can lead to employment opportunities in their country of choice.
If your program is in-person or hybrid, address any concerns regarding travel and living in the U.S. Ensure their comfort level with plans to study abroad.
Although this report only addresses a portion of your prospect pool, the news is encouraging. Demand for graduate education is increasing and now is the time to double down on recruiting efforts.
GPRS is an extension of your team
If you are looking for ways to update your digital marketing strategy to account for shifts in the market, GPRS can help. Enlist a partner that can identify where you need help, offer you solutions and suggest new strategies for setting and achieving your goals. If you're ready to start the conversation, contact GPRS today.