BY Anthony Campisi | September 29th, 2022
Leveraging storytelling to enhance your school's digital online presence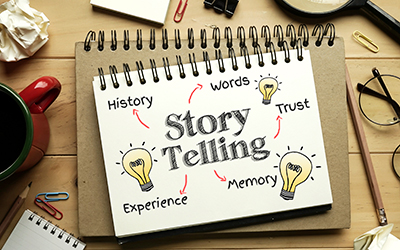 Lately, it may seem as if the term "storytelling" is everywhere. Influencers are using it to showcase their glamorous lives while selling products, and brands are using it to create a connection with potential customers. So how can your school make the most of this marketing tactic to boost your content's value?
In a recent blog post, we discussed using your school's blog to tell your story and increase traffic. Here, we'll dive into why storytelling is relevant in higher education and different ways to use it (beyond your blog) to highlight your school's key differentiators.
Defining storytelling
Storytelling in marketing quite simply means developing a deeper connection with your audience. A recent Forbes article outlines three reasons that marketers should prioritize storytelling:
Stories unite humans through authenticity and relatability.
Storytelling is a powerful tool that enables brands to teach and prospects to learn through shared experiences.
Stories can cut through the clutter and engage consumers in a fragmented world.
When you are considering utilizing this method, you can think of it as using stories to help prospects see themselves at your school while connecting their personal and professional journey to your program's offerings.
Who can be a storyteller?
When creating your strategy, be sure to select the right representatives of your brand so they can accurately convey your key messages. Although anyone can be a storyteller, it's important to lean on your marketing and admissions department to identify what stories need to be told and by whom. Your greatest impact can be found with authentic, original content that conveys realistic perspectives and often vulnerability.
Here are a few methods to incorporate storytelling into your marketing strategy:
Student stories – these can either be formal write-ups or pieces of content created directly by students discussing what it's like to participate in classes and clubs and be part of your school's community.
Faculty stories – these can chronicle a class project, discuss recent research or highlight a philanthropic venture.
Alumni stories – these can showcase success stories as told by alumni themselves.
Other content creators – try tapping your admissions or marketing team members to create stories as they are likely in tune with what prospects are looking for.
How to showcase your stories
Regardless of what story you're telling, or who you're using to communicate your key messages, there are multiple ways to showcase your final product. You can post them on your website, utilize them in social media or include them on your blog. You can also include snippets in email campaigns and marketing materials. Additionally, don't forget about the value of video storytelling for its emotional connection and relatability.
If you need help determining how to create rich content and utilize stories to enhance your school's online presence, GPRS can help. We have worked with over 60 graduate schools and have insights into program branding and how competitive schools are using digital advertising to position themselves in the market. Contact us today to start the conversation.