BY Anthony Campisi | August 18th, 2021
What higher ed can learn from luxury brand marketing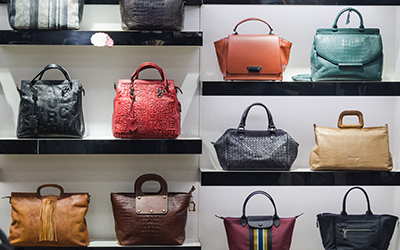 If you've ever purchased an expensive watch, the latest handbag or designer shoes, you hope that the quality is worth the cost. Regardless of your motive for buying a luxury brand – a desire for buying the best, or the ability to show others you have refined taste, the reality remains the same – you were willing to pay a lot of money for something you hope delivers value.
An advanced degree is similar in many ways – and often costs even more than that bag, scarf or piece of jewelry you've been eyeing. Let's take a look at the similarities between luxury brands and higher ed, and what schools can learn from how the big brands do it.
Marketing for luxury goods
Advertising for luxury goods and brands tend to focus on opulence, quality and the happiness you will feel when you interact with their brand. They want to inspire confidence in customers that they will elevate their status by using their product. They do this by:
Using elevated words like timeless, performance, prestige and elite
Using imagery that conveys luxury
Employing prestigious spokespeople, celebrities and clients
Implying scarcity, as in, it's hard to obtain, find or fit into
Implying a mystique – what's in the secret sauce?
In addition, there are some things they don't do, like:
Mentioning price
Telling you where to find/buy it
Stating the value you'll receive (as it's implied)
As far as the channels they use:
Avoid casting a wide net and instead focus on channels that allow targeting of specific demographics.
Rely on word of mouth and personal recommendation.
Extend their customer service beyond the purchase with nurturing, personal care.
Using luxury brand marketing strategies and tactics for higher ed
While you may not use every advertising technique listed above, schools can:
Focus communications on where the degree will take you, the elevated circles it will place you in and the performance aspect of the new skills you will obtain.
Use imagery that conveys your brand. If you can't swing a custom photo shoot, opt for campus shots and tight criteria on stock images.
Highlight prestigious alumni, faculty or current students as representatives of your programs.
Emphasize selectivity while remaining open to a diverse set of students.
Imply there's a secret recipe to the success of your graduates without divulging the ingredients.
Like luxury brands, schools should avoid:
Mentioning price, 'deals' or words like 'less-expensive' or 'cheap'
Limiting campus visits to scheduled appointments – instead encourage prospects to explore the campus on their own to get a feel for the atmosphere
Pushing too hard on the value you will receive for the money as this may concern some prospects and cause them to do in-depth price comparison
As far as channels go, schools can take a page out of the luxury good playbook and:
Target certain demographics for specific programs and do research on what channels your ideal student uses
Rely heavily on alumni referral
Provide nurturing, personal outreach to as many prospects as possible
Although there are many similarities between luxury goods and the higher ed industry, it's clear that an advanced degree will take you much farther on your journey than a pair of designer shoes. Highlighting the benefits of your degree, showcasing successful alumni and targeting your advertising in both channel and communication type can go a long way.
If you need help customizing your marketing strategy and communications plan to appeal to your prospects, GPRS can help. Our team has worked with a wide range of schools to develop solutions to increase lead activity and grow enrollment. Start the conversation today.