BY Anthony Campisi | June 30th, 2022
New and unique ways to market your program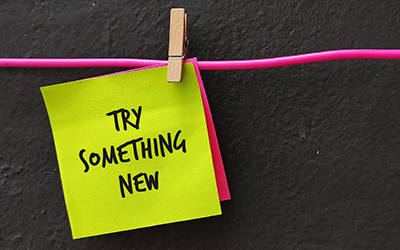 As you are beginning to plan for your next recruiting year, it's likely that you'll be evaluating data surrounding the tactics that worked — and those that didn't. While it may be tempting to put your marketing plan on autopilot and use past strategies to bring in leads, it may be worth it to try new and unique ways to market your program — especially these days!
Below is a roundup of a few unique ways higher ed institutions can market their programs. You might even notice a few of your competitors using these to stand out in the market. Don't hesitate to take the first step to innovate and test new ideas — you may even see a big payoff!
Adding podcasts to your digital asset mix — and how to leverage them
You don't have the be intimidated by podcasts. In fact, creating them and leveraging them may be easier than you think. Giving your students multiple ways to connect with your brand can benefit your school. Podcasts can be crucial to your media mix because they are personal and emotional, easy and inexpensive to produce, evergreen, accessible and convenient, and unique and engaging. Once you're ready to brave the waters and try something new with a podcast, here's how to get started.
Embracing the digital video advertising trend for your school
Although video advertising can work for any company in any industry, it's becoming imperative in the higher ed world because of the personal scale connection required for large buying decisions like a degree. Video ads are shorter and more succinct than the traditional 3-5 minute video you have on your website or YouTube channel about your program, the benefits of your school, or a testimonial from a professor or student. If your school is considering embracing the video ad trend, here are a few secrets to help you succeed.
Leveraging alumni stories to boost your digital strategy
Every graduate program claims to have rigorous academics, highly regarded faculty, and fantastic employment or advancement opportunities. How do you prove that your institution is worth the investment and that students can anticipate the success they're seeking? This is where alumni stories come in. Your school's brand identity is shaped by how you tell your story. Profiling alumni can be one of the most powerful forms of storytelling. Learn how you can use these stories and their content to boost your digital strategy.
Are the latest social platforms a fit for your school?
When you are using social media to complement your marketing and communications plan, a high viewership is almost always guaranteed. However, with any marketing tactic, the key is to make sure that your content is reaching the target demographic with the right message at the right time. You may have heard your peers in higher ed or your digital agency talking about advertising on Spotify, Pandora, Reddit, Pinterest or even TikTok. But how do you know which platforms are right for your school, and whether or not they will help you achieve your recruiting and enrollment goals? Read on for some tips about selecting the best social media for your goals.
Need help?
If you're interested in learning more about how these and other tactics and strategies can fit into your school's marketing and recruiting strategy, GPRS can help. Contact us today to start the conversation.