BY Anthony Campisi | May 31st, 2022
Reflecting on your prospects' decision criteria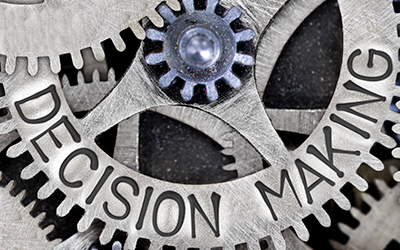 The process your team uses to make decisions about marketing and recruiting involves some of the same steps your prospects use when considering a program. Thorough decision-making includes establishing goals and priorities, obtaining the information, and determining a return on your investment. Here we'll examine decision criteria from your prospects' perspective.
Goals and priorities
It's important to reflect on your prospects' objectives so you can determine what program attributes to prioritize in your messaging. One way of categorizing your messaging involves starting with the end goal in mind.
Goal: Quick career progression
Attributes: Expedited admission and enrollment decisions, speed to degree completion and immediate start dates
Goal: Expanding knowledge base
Attributes: Well-rounded curriculum, electives and specializations
Goal: Movement into leadership
Attributes: Leadership development program and faculty mentorship
Goal: Developing a network
Attributes: Diverse class profiles and distinguished alumni
Goal: Maintaining career momentum without disruption
Attributes: Program flexibility, course delivery options, waiving courses, and fewer credit hours
Return on investment
While many programs and schools focus on the value of the degree, it's important to consider that cost does matter. Taking on a student loan or financing, regardless of what career stage your prospects are in can present a barrier. It's important that your messaging not only focus on the ROI they will receive from the program — i.e. how soon they will recoup the cost through promotions and salary increases — but also on how you can help them shoulder the cost burden. Be sure to clearly state your tuition while outlining all of the financing and scholarship opportunities. Some schools also choose to provide guidance on obtaining employer sponsorship and how to convince your boss to invest in your education and future at the company.
Obtaining the information
Have you ever tried to make a decision with limited information? In business, this is often defined as "dealing with ambiguity." While this is a skill your students will learn in the program, it's not something you want them to encounter when selecting your program. As marketers and recruiters, it's your job to deliver the whole picture so prospects can easily make decisions. You can do this with clear messaging on your website, detailed materials that outline and address their decision-making criteria, and open conversations with the recruiting team.
As you consider how to translate your prospects' decision criteria into informative and helpful marketing communications, GPRS can help. With years of experience working in the higher education industry, we are skilled at customizing messages for your unique audience to increase enrollment. Contact us today to start the conversation.