BY Anthony Campisi | May 31st, 2023
Questions

to ask about your funnel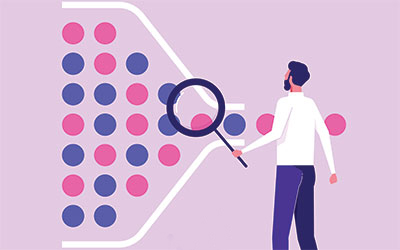 At any point in your admissions process, you may need to examine your funnel to determine the best path toward finalizing your class enrollment. Are your marketing efforts balanced to ensure that top, middle, and bottom funnel leads are getting the proper attention? As your prospects enter into the information-gathering phase and continue their decision-making process, your team's efforts are pivotal in converting them.
Here are a few ways to think about your funnel and questions to ask as you hone your marketing strategy to address leads at all stages.
Do you have the right people in your funnel?
Perhaps one of the most challenging questions regarding enrollment is in regard to how you fill your funnel and what you do with the leads once they enter. Any solid marketing strategy will include elements that address your leads at the top of the funnel, the prospects in the middle, and the seated students that end up enrolling. To ensure that you're meeting each segment with the information they need to make a decision, there are many tactics you can use to strengthen the likelihood that they select your school. Learn more about questions you can ask about your prospect pool.
Is your funnel top-heavy?
Did you ever think it would be a problem if you had too many leads? If you have generated a large number of leads but your enrollments haven't caught up, your funnel may be top-heavy. As you are thinking about ways to maximize your marketing efforts to target qualified candidates, consider a strategy to dislodge your stalled leads, move them through the process and refill your funnel with qualified prospects for the upcoming admissions cycle. Find out what could be causing the backup and some solutions for ensuring an easier flow toward enrollment.
Have the leads in your funnel stalled out?
If you're like many schools, you've got a group of stagnant leads that you're wondering about. Did they decide to pursue another program and forgot to let you know? Did they decide to delay their degree due to career progression or life circumstances? Or is it possible that they may show up at the last minute to enroll? Stagnant leads are tricky for many reasons. Here are a few ideas on dislodging stalled leads through a re-engagement campaign.
If you need help evaluating the quality of your leads, the effectiveness of your current marketing campaign, or ways to dislodge stalled leads, GPRS can help. Our strategy team has worked with many schools to develop solutions to increase lead activity and grow enrollment. Start the conversation today.