BY Anthony Campisi | November 15th, 2022
Take pressure off your marketing and admissions teams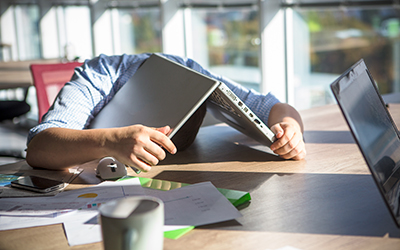 If your marketing and admissions teams are currently trying to do more with less budget, staff, and time, you are not alone. Many schools right now are facing budget cuts and resourcing issues that can make it difficult to create and maintain enrollment momentum. Taking pressure off your marketing and admissions teams could be the answer.
A lot has changed (and continues to change) for the teams responsible for enrollment over the last couple of years. Some of your staff may still be working remotely. Your recruiting team may be smaller with more work to do. Your marketing budget may be lower than in previous years. Even if your entire staff isn't waving the white flag, it's likely that you are feeling the strains of a post-pandemic environment where there is still a bit of uncertainty and constant change.
If you're struggling to create new leads, keep up with your funnel or strategize new innovative ways to do more with less, we have some ideas to help. By working with an experienced digital agency like GPRS, you will benefit from our over 20 years of experience in helping higher ed institutions just like yours.
Recruiting assistance
Many schools are starting to realize that depending solely on traditional recruitment methods to meet the 24/7 demands of today's prospects is unrealistic. To connect with prospects on their terms, and within their timeframe, you need more scale. This is where a centralized contact center can become your support system. At GPRS, we can provide inbound or outbound support that is in alignment with your brand. We can also help pre-qualify leads so your staff can be more effective with their time.
Email nurture campaigns through your CRM
Although personal follow-up is extremely valuable, communicating individually with every prospect can eat away at your recruiting team's time. When you create nurture campaigns that send automated emails through your CRM, you are ensuring a continuous flow of valuable information so you can stay top-of-mind with prospects while also relieving the pressure on your team. There are several ways you can create an email campaign that works for your team, starting with the segmentation of your audience and a targeted build of information with an automated schedule. By doing the work upfront, you can create an "easy button" for communicating with prospects and reduce the stress on your team to be constantly available.
Get strategic help from a qualified firm
Industry and strategic enrollment experience, mastery of lead generation, and technical measurement platforms for optimization and ROI tracking are some of the most important factors you should consider when hiring a firm to support your recruiting and marketing teams. If you're looking for a firm that has higher ed strategic experience, can prove their results, and has worked with your peers, GPRS can be a great partner to help you.
If you need help taking the pressure off your marketing and admissions teams, GPRS can be an extension of your recruiting and marketing staff. We can assess your needs, fill the gaps and find ways to bolster your team so they can do what they do best – find and connect with students. We have worked with over 60 schools nationwide, and have insights into digital marketing strategies and how to leverage your school's unique selling points to enhance communications with prospects. Contact us today to start the conversation.