BY Anthony Campisi | September 26th, 2019
Industry Benchmark Data: How do you compare to the competition?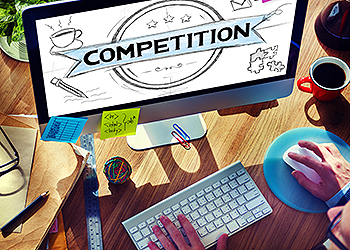 In higher ed marketing, a competitive analysis can help you gain insight into program trends, offerings and innovations. You can even determine how your competitors are creating their messaging to prospects and channels they are using. But if you're not in their market it may be harder to gather intel. If you're like many schools, you may have missing pieces of the puzzle like how peer schools are marketing and on what channels. You may even be wondering what they're spending, how many leads they're getting and where their students are coming from (hopefully it's not your backyard). Wouldn't it be great to have a marketing partner that has all of these answers, and more?
Filling in the gaps with industry benchmark data
When you're developing your marketing strategy, it's critical to examine your target market, pick the right channels and develop messaging that supports your programs key features and benefits. But if you're going to compete in a national (or global) market, being armed with additional information on how your competition thinks can only serve to enhance your strategy.
In addition to the standard competitive analysis areas, when comparing your marketing with your peers, here are the main categories that are important to benchmark:
Leads – how many leads were obtained and how may turned into prospects and seated students
Cost per click – what is the typical cost per click and cost per seated student by channel, area of the country, program
Seasonality – what seasons are key recruiting periods? You may know your school's seasonality based on recruiting events or past data, but there could be times of the year you are missing.
Geographic Interaction – where are prospects coming from that are attracted to your type of program, where is your competition pulling from, and what radius should you target for the highest possible interactions?
ROI – how much is your competition spending and where, what channels are working the best and how many seated students are they obtaining directly from their marketing spend?
Messaging – what types of messages resonate the best in your geographic location and for your specific type of program?
How do you obtain this industry benchmark data?
Although we'd like to tell you that "there's an app for that," that's unfortunately not the case. But partnering with GPRS will give you access to our proprietary platform, GP InsightsTM, that we've developed after years of collecting aggregate industry data. We are tracking real-time market data and can give you the type of insights you're seeking to deepen your marketing strategy. With a subscription to the GP Insights platform, predictive analytics in the higher ed space is no longer the future, it's available today.
If you'd like to learn more about how you can fill in the gaps of your competitive analysis, contact GPRS today.