BY Anthony Campisi | October 19th, 2023
How Specialized Institutions Can Compete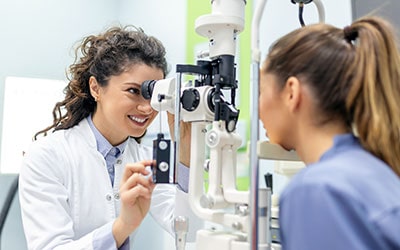 Specialized colleges and graduate schools have a number of advantages, particularly when it comes to attracting and recruiting students in their unique niche. However, they're often at a competitive disadvantage compared with other, better-known schools for a number of reasons. How can specialized institutions compete with all of these larger schools out there?
The good news is that gaining a competitive edge is easier than you might think. Let's examine some of the challenges that smaller and more specialized schools face, some strategies for staying competitive, and how GPRS can potentially help.
The challenges facing specialized schools
Specialized institutions face a number of unique challenges when it comes to attracting and retaining students. Compared to larger and more well-known institutions, they often have limited brand awareness and name recognition. Compounding these issues is the fact that they often operate with smaller budgets compared to larger institutions, hampering their marketing and student recruitment efforts. In addition, their specialized focus leaves a smaller pool of prospective students compared to larger schools, meaning that they have to compete especially hard for every enrollment.
Taken all together, these issues make it difficult for specialized institutions to compete with larger schools and grow their enrollment. Fortunately, by implementing some innovative strategies and messaging, smaller institutions can gain a key competitive advantage.
How specialized institutions can compete with larger ones
Smaller, specialized schools need to be nimble and forward-thinking when it comes to staying competitive with larger academic institutions. Just a few ways to do that include:
Focusing on their unique story and selling points in their marketing campaigns and messaging. Conveying your institution's unique history, culture, and specializations as a way to stand out against your larger competitors.
Taking pride in your institution's smaller size and scope and sell its benefits to students. A few advantages typically include smaller class sizes, less bureaucracy, more innovative and flexible curriculums, greater collaboration, and a more personalized service.
Sharpening your marketing and messaging to prospective students with personalization. Making sure that all forms of communications – emails, text messages, phone messages, and the like – are addressed to them specifically.
Getting active on social media. While it's true that larger institutions naturally have better name recognition and hence a larger following, posting engaging content consistently, interacting with prospective students, and telling your unique story on social media can be a great way to build brand awareness and increase engagement quickly and cost-effectively.
Personalizing your school's story, mission, and achievements with student testimonials, alumni success stories, and even case studies of individual or small groups of alumni. This content can be produced in many different formats, including blogs, whitepapers, videos, landing pages, and more. It can also be repurposed into multiple formats and easily shared on social media, creating a virtuous cycle of greater brand awareness and engagement with your target audience.
How GPRS can help
At the end of the day, specialized schools often need a helping hand staying competitive with larger ones – and that's exactly where a dedicated and experienced partner like GPRS comes in.
Since 2001, we've delivered enrollment results for schools of all sizes and specialties through our advanced marketing and recruiting expertise, unmatched experience, and extensive knowledge of the higher education recruitment industry. We leverage our deep knowledge of all facets of recruitment marketing to ensure that higher education institutions, no matter their size, meet the enrollment challenges of today with our array of professional services.
Want to learn more? Contact us today to see how our experience and expertise can help your specialized school overtake the goliaths.