BY Anthony Campisi | April 29th, 2021
Using your school's blog to tell your story and increase traffic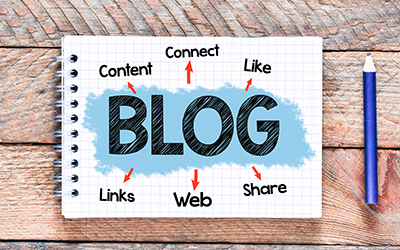 If you are looking for ways to increase traffic to your site, boost social media activity and tell your story, blogging could be your answer. Here are three ways you can use a blog to tell your story and make a huge difference in your content game.
Boost SEO
An SEO audit of your school's website may show that one of the key areas that stores SEO-rich content is your blog (if you have one). Even if you haven't made efforts to update it consistently, it acts as a housing area for all of the keywords and phrases people search for. Since blogs are more conversational in tone, they often include the real questions people might type into a search bar, like "Is an MBA right for me?" And if your content doesn't include these types of questions or keywords, now's a great time to start doing research so you can make those updates.
Without getting too technical, SEO (Search Engine Optimization) means that your site includes the keywords and phrases people search for, which will make it more likely to come up as a top result in search engines. You can either pay to do this through pay-per-click advertising or do it organically – or both. To organically make your site more valuable, you need to have both quantity and quality of content which starts with including keywords and phrases with high search volume. This brings us back to your blog. Before you write your next blog, try doing these things to make sure it is SEO rich and traffic-worthy:
Do a search of keywords and phrases on your topic. You can do this using a free or paid web listening tool, or by digging around in your own site's google analytics.
Add relevant keywords and phrases throughout the content, while ensuring that the content reads well.
Guest bloggers increase credibility
Although your admissions and marketing team is the frontline in your recruiting process and can definitely be expert bloggers, from time to time, see if you can mix up your authors. Guest bloggers draw a varied crowd and boost the likelihood that your blog will be read and shared more widely, not just by those who frequent your website often. Guest bloggers can also offer a different perspective, objective viewpoint, or even a bit of additional notoriety to your articles. You can try using:
Alumni – High profile alums who are well known in their industry or have an interesting and successful career trajectory are ideal.
Current students – Giving a close-up view of the classroom, student activities or an internship can serve as eyes and ears for prospective students who want to know what daily life looks like.
Faculty – Highlighting faculty research or a particular class in the curriculum can give a window into the high caliber professors you have at your school.
Regardless of who you get to tell your story, make sure they have a story. And always tie their relevancy back to why they are the blog author by adding an intro for context.
Blog to tell your story
Your website has been designed to highlight your programs, benefits, outcomes and faculty. It is a formal space for prospects to visit when they can't visit you in person. But no matter how inviting your website content is, there is no substitute for the informal conversation prospects are seeking. What's the real story? How will I really feel when I'm on campus. Will I fit in? Will I get the job I'm looking for? Is it worth it?
Use a blog to tell your story, and address these concerns and barriers in an honest way that lends itself better to real conversations.
To focus on your blogging efforts, you can start small. Recruit a couple of guest bloggers and do some keyword research. Try adding one new blog per month and then work up to one per week. Then push anything you write out on your social platforms. Encourage sharing. You might be amazed at how quickly you start to grow your traffic just by telling your story.
GPRS is an extension of your team
If you are looking for ways to add to your digital marketing strategy with blogs, GPRS can help. Enlist a partner that can identify where you need help, offer you solutions and suggest new strategies for setting and achieving your goals. If you're ready to start the conversation, contact GPRS today.