BY Anthony Campisi | June 15th, 2023
Unleashing the Unique Selling Proposition of Your EMBA Program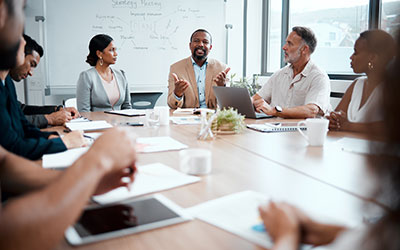 Are you looking to make your Executive MBA (EMBA) program truly stand out from the competition? While many EMBA programs may share similar attributes, it's crucial to identify the unique selling proposition (USP) of your EMBA program to attract prospective students. This blog post will guide you through effective strategies to differentiate your program and capture the attention of potential candidates.
Key strategies to highlight your EMBA
Exceptional ROI: Achieving Maximum Value

Highlight the exceptional return on investment (ROI) offered by your EMBA program. Showcase its affordability compared to other programs in your city, region, state, or even nationwide. Emphasize the long-term career and financial benefits students gain from investing in your program, making it a highly attractive choice.
Renowned Faculty: Learning from the Best

Distinguish your EMBA program by showcasing your faculty's notable research, publications, awards, and industry experience. Students seek to learn from experts who possess practical knowledge and insights. By featuring renowned faculty members, you enhance the reputation and appeal of your program.
Innovative Curriculum: Empowering Future Leaders

Go beyond business fundamentals and highlight your EMBA program's innovative curriculum. Showcase diverse elective courses and specializations that cater to student's specific areas of interest. Demonstrate your program's commitment to providing a comprehensive and tailored educational experience that equips students with the skills needed to thrive as leaders.
Impressive Cohorts: Learning from Peers

Highlight the exceptional caliber of your EMBA cohorts. Emphasize the opportunity for students to learn from each other, as well as from their professors. Fostering a diverse and high-achieving cohort creates a unique and enriching learning environment, setting your program apart from others.
Brand Equity: Partnering with Excellence

Leverage the reputation and brand equity of your program's parent organization. Highlight any rankings, exclusive accreditations, etc., within the school and college or university. The achievements enhance the perceived value and prestige of your EMBA program.
Flexible Program Formats: Adapting to Professionals' Needs

Tailor your program schedules to meet the needs of working professionals. Highlight any unique features, such as hybrid learning environments or formats that allow students to balance their professional commitments with their education. Emphasize the convenience and flexibility of your program, catering to the busy schedules of potential students.
Leadership Development: Nurturing Exceptional Leaders

Differentiate your EMBA program by going beyond basic executive coaching. Showcase how you provide extensive support in career development, placement opportunities, and comprehensive leadership development programs. Highlight any distinctive initiatives or resources that take leadership development to the next level, attracting ambitious individuals seeking growth.
Global Reach: Expanding Horizons

Highlight any international components within your EMBA program that differentiate it from others. Showcase unique opportunities such as global study trips, international residencies, or collaborations with renowned institutions worldwide. Emphasize the advantages of gaining a global perspective and cross-cultural experiences for future business leaders.
Influential Alumni Network: Extending Value Beyond Graduation

Demonstrate the value of your EMBA program beyond graduation through a strong and influential alumni network. Highlight the achievements and positions held by your alumni, both geographically and within their respective industries. Capitalize on success stories within specific industries to showcase the potential for career advancement and industry-specific connections.
Your USP will differentiate your EMBA
To make your EMBA program more enticing to prospective students, unleash the power of your unique selling proposition. By highlighting exceptional ROI, renowned faculty, innovative curriculum, impressive cohorts, brand equity, flexible program formats, leadership development, global reach, and influential alumni network, you will effectively differentiate your program and attract ambitious professionals ready to excel in their careers.
If you need help unleashing the unique selling proposition of your EMBA program, GPRS can help. Our strategy team has worked with many schools to develop solutions to increase lead activity and grow enrollment. Start the conversation today.