BY Anthony Campisi | October 31st, 2023
Grad school demand generation best practices and strategies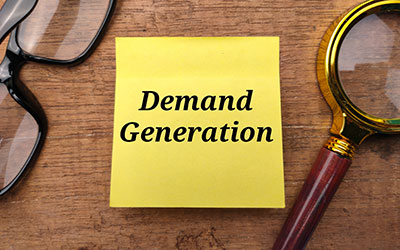 You've launched brand awareness and lead generation marketing campaigns in the past for your institution, but something still seems a bit off in your marketing strategy. Are you taking grad school demand generation best practices and strategies into account?
As graduate schools face an increasingly complex marketing landscape trying to reach, engage, and ultimately recruit prospective students, it's important to take demand generation into account, not just traditional metrics like brand awareness and lead generation. Let's examine what demand generation is and take a closer look at some demand strategies and best practices to keep in mind for your recruitment marketing campaigns.
What is demand generation?
Demand generation is a marketing strategy that educates and informs consumers about products and services with the ultimate goal of creating demand for them.
It's similar to both brand awareness and lead generation, but differs in some key ways. While brand awareness focuses on establishing a brand's presence and lead generation attracts prospects, demand generation centers on creating measurable demand. You might want to think of it as filling in the gap between brand awareness and lead generation, serving as a bridge to generate demand for products and services that consumers are aware of. Ultimately, using all three approaches for an integrated marketing strategy is typically your best bet for success.
Boosting grad school demand: Focus on the "why?"
At the core of demand generation is answering "why?"
Why should consumers buy a product, use a service or, in this case, attend your graduate school? To determine this, take a step back and ask some high-level questions about your institution itself. What are the main reasons why a prospect would want to attend? How would attending your institution advance the career of a prospect? What's its history and culture?
Once you have the answers to these questions and can better articulate your value proposition to prospects, you'll be in a better position to create demand generation content.
Create educational content that engages
Educational content to spark consumer demand is a key pillar of any demand generation strategy. Specifically, the content you produce should focus on conveying your value proposition clearly and concisely to educate consumers about your institution's selling points and ultimately turn them into leads.
Many formats are effective at doing this, including blog posts, videos, case studies, landing pages, newsletters, and more. Be sure to also leverage email marketing and social media channels, especially LinkedIn, to distribute your educational content quickly and effectively to your target audience.
Personalizing communications is an important demand generation strategy
Personalized communications are another important demand generation strategy to keep in mind. Make sure that all of your email communications, newsletters, flyers, and other marketing collateral address prospects by their first name to create a more humanized, personal touch.
Create lead scoring models to boost grad school demand
Creating a lead scoring model can be an effective way to gauge where prospects are in your sales and marketing cycle and tailor the next phase of your messaging and marketing channels specifically to them. For demand generation specifically, they're often a great way to measure the success of your efforts so far, gauge what's working and what's not, and craft a more personalized, bespoke form of messaging for individuals in your funnel.
Use these grad school demand generation best practices today for success
Understanding what demand generation is and some strategies to employ it can help supercharge your recruitment marketing efforts, filling in the missing link between brand awareness and lead generation.
Are you looking to boost your demand generation efforts and overall recruitment marketing strategy? Contact GPRS today to leverage our expertise for your institution!