BY Anthony Campisi | August 30th, 2023
Proven Graduate School Engagement Tactics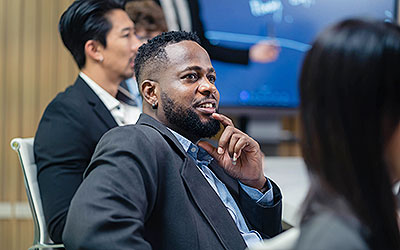 The competition for graduate school program and MBA recruits has always been tough. Many times, higher education institutions focus on building awareness and generating leads first and foremost – and rightfully so. However, there's more to it than just that if you want to convert these leads into actual graduate students. Our proven graduate school engagement tactics can help.
Generating inquiries is key, but keeping leads engaged and interested is even more important. By failing to do this, your marketing funnel campaigns will fall flat, with very few leads ultimately becoming students. However, many prospect engagement strategies exist to keep your grad school and MBA programs front and center, boosting the chances that they'll stay interested and ultimately convert. Let's take a look at some proven graduate school engagement tactics.
Focusing on value is one of the proven graduate school engagement tactics
First and foremost, prioritize bringing valuable content to your target audience. By showing your program's value with engaging and informative content, you can better convey your unique value props to prospects and keep them interested. This can be done in a number of ways, including blog posts, whitepapers, social media, videos, infographics, and more.
That being said, it's important to focus not just on your own program, but the benefits for your prospective students. How will your programs help change the trajectory of their careers? Will they make connections? What will be their long-term benefits financially? By answering these questions in your content, you can convey value and entice your prospects to learn more.
Interact on social media to engage with graduate prospects
Engaging with prospects on social media is another crucial strategy to use. Sure, social media is a great way to bring valuable content to your audience quickly and efficiently, but don't forget to engage and interact with them too!
Answer their questions and comments, hold Q&A sessions, conduct polls, and try to interact as much as possible with your audience as opposed to just posting content. This way, you can convey a more human touch and improve engagement with your prospects in real time.
Personalize your marketing efforts to engage your audience
Personalization is key in marketing today, but all too often, some higher education institutions may forget this. Generic content to a mass audience just doesn't cut it anymore – instead, personalize your email marketing campaigns, newsletters, direct mailers, and as many other forms of communication as possible to let your prospects know you understand them on a more personal level.
Understanding your audience is another one of the proven graduate school engagement tactics
Finally, make sure you understand your prospects so you can better craft your messaging to them. Conduct polls and focus groups, research extensively, and talk to them on a one-on-one basis in order to ascertain their pain points, goals, challenges, and other views in order to tell your story and serve them the most engaging and valuable content possible.
Improve prospect engagement today
Boosting engagement with prospects can seem difficult, but with these proven graduate school engagement tactics, you stand a much better chance at success. If you need help building a pipeline of leads and prospects for your grad school and MBA programs, contact GPRS today to see how you can leverage our experience and expertise as trusted higher education marketing experts.