BY Anthony Campisi | March 29th, 2022
How well do you know your competition?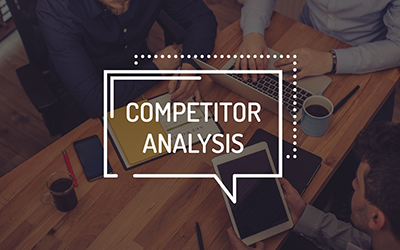 You've identified your program features and benefits. You've defined your audience segments through personas. You've determined objectives and created ways to measure success. But how will you stack up with your prospect pool once your well-vetted marketing plan hits the market? Unless you've done your research, your competition could eat your lunch. So where do you start?
Perhaps one of the most critical (and overlooked) aspects of creating a marketing strategy is competitive analysis. Building this base layer can provide guideposts for developing messaging that will resonate with your target's journey. Here are a few ways to determine who your competition is and some key areas to evaluate:
Regional competition
For every school, geography is a key consideration in building a marketing strategy. How far does your brand reach and how are you perceived in your market? How do you stack up locally, regionally, and nationally? How far are students willing to drive for an in-person program?
To evaluate your competitive set, begin with building concentric circles around your school.
Who's in your backyard? Even if they may not seem like a direct competitor, the geographic location may make their program more viable for a prospect who'd prefer to stay local.
Who's within a 2-hour drive? Take stock of programs beyond state lines. Local prospects may be willing to drive farther for a bigger name, stronger alumni network, lower cost, or flexibility.
Who's online? In today's higher ed space, everyone is competing with online programs. The recent proliferation of remote programs has forced innovation and provided more accessibility that did not exist previously.
Aspirational competition
An aspirational competitor is a school that you may share similarities with — in program offerings, benefits, regarded faculty — but there is little direct overlap in your pool of prospects. You aren't directly competing with an aspirational competitor, regardless of whether they're in your time zone or not, and they are often regarded as a market leader.
It's important to include these schools in your competitive set because you can glean insights by evaluating their programmatic innovations, new content and marketing strategies. Even though your ideal student may not be applying to their programs, it's true that market leaders often set the bar for expectations and outcomes, and it can benefit your school to be aware of their presence.
How to evaluate the competition
When building a competitive analysis, using the template below can give you a holistic view of the playing field.
Programmatic
This is where your prospects will be spending most of their time doing their research. The insights you gain in evaluating these pieces can help you position your program's unique features and benefits. Begin building your competitive analysis matrix using these criteria for a well-rounded evaluation:
Credit hours
Curriculum focus
Program length
Tuition
Specializations
International component
Faculty
Admissions
While every school's admissions process is different, it's important to understand when the competition is hosting events in your market, how often they are pulling students from your pool and how they are reaching out to prospects. You can also see what types of events they are hosting so you can modify your event strategy. Most of this information can be found directly on your competitor's website:
Number of intakes & timing
Events
Marketing
Reviewing a competitor's marketing may take some extra effort. Beyond scouring their website, you may not be able to see their geo-targeted digital advertising if you're not in their market. Doing a bit of sleuthing can benefit your marketing team. Here are a few suggestions:
Email communication – try signing up as a ghost student to gain VIP access to their CRM system
Social – Subscribe to competitors' channels to monitor campaigns and messaging
Content – Take note of videos, podcasts, blog posts, and other unique content types
Competitive benchmarking
If you need help evaluating your competition, GPRS can assist. We have worked with over 150 programs nationally and can offer you insights and information that can help you enhance your marketing planning process.
Let's start the conversation today.