BY Anthony Campisi | April 23rd, 2020
Adding podcasts to your digital asset mix – and how to leverage them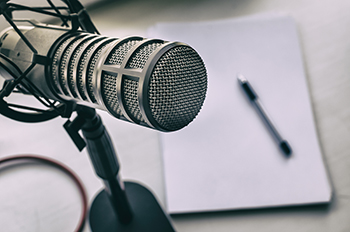 You don't have to be intimidated by podcasts. In fact, creating them and leveraging them may be easier than you think. Read on for some tips on developing this unique and sustainable form of content to add to your school's marketing strategy.
It may seem that everyone (including your competition) is jumping on the podcast bandwagon. And to some degree, that is true. Giving your students multiple ways to connect with your brand can benefit your school. Podcasts can be crucial to your media mix because they are:
Personal and emotional
Easy and inexpensive to produce
Evergreen
Accessible and convenient
Unique and engaging
So, you've decided that you'd like to brave the waters and try something new with a podcast. But where do you start, what tools will you need and how can you add it appropriately to your school's digital library?
The tools you need
To create a podcast, here is what you'll need to get started:
A good microphone kit: Try one that is portable with easy set-up and dependable audio quality so you can record in a noisy setting like a classroom, on the phone with an alum or in a quiet office with an admissions director.
A program for editing audio content: There are several free versions available or you can purchase one for podcasters of all levels online. This type of software will allow you to edit your voice and clean/organize content the way you want it.
A way to post it online: Your school may already have a cloud-based hosting site, but if not, you can usually set up a basic account to post and archive content.
Content ideas
Higher education is ripe with ideas for podcast content. Since pursuing a degree is such a personal decision, your prospects will appreciate your efforts. Give them information they can use to evaluate whether your program is right for them. Here are some ideas:
Interviews with current students on immersions, clubs, projects, coursework, internships and plans after graduation.
Discussions with alumni on ROI, meaningful moments from the program, how their network has helped them in their career path and leadership lessons.
Q+A sessions with faculty giving a deep dive into topics from a specific course, i.e. finance, marketing, leadership, international business, etc.
A counseling session with recruiting staff that debunks admissions myths, gives advice on the application process or offers insight on choosing the right program for you.
A catch-up conversation with your dean.
How to leverage podcasts in your school's marketing
Once you've created your podcasts, it's important to post them on your website in a central repository. Whether it's your newsroom or a dedicated podcast page, having them in one spot will help with search value. You can also weave them into different pages throughout your site — especially the admissions sections — to create more engagement.
Here are some additional ways you can use podcasts:
Share on social media with a teaser and link to the podcast.
Summarize the podcast content in a blog and the link to it for reference (this helps with SEO).
Send them out in admissions emails as they are relevant to the topic.
Post them on your YouTube channel with an accompanying slideshow.
As you are searching for ways to strengthen your higher ed digital advertising and marketing content, podcasts can improve your searchability, reach and access to prospective students. Find more ways to leverage this content by contacting GPRS. We can help you weave this content into your existing marketing strategy and grow your prospects with meaningful content that tells your school's story.