BY Anthony Campisi | February 7th, 2020
Ramp up for recruiting season. Try new event types, go local and keep the lines of communication open.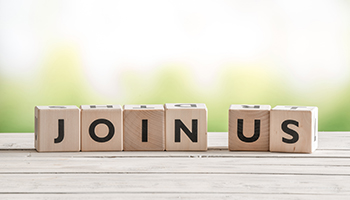 A room full of prospects at your upcoming admissions events is your objective. Start with an event strategy that will register with your future students and help you stand out from the competition during recruiting season.
As you finalize your plans and budget for the upcoming recruiting season, here are some tips to customize your communications and maximize your event attendance with the right leads.
Make your event unique – and market it that way
Yes, your prospects, regardless of their age or career stage, want to know the benefits of earning an advanced degree. But more importantly, they are looking to experience your school. That includes everything from professor interaction to meals during class days and what your building looks like. Giving your prospects a glimpse of "a day in the life" can go a long way in helping them make their decision. It also ensures they are a good fit for the program.
When you're planning your events, try thinking outside the classroom. Plan a short walk around the building or grounds, cater snacks or lunch from a local restaurant or include a faculty meet and greet. If your program is online, try showing a video of a virtual class or including a student panel. Although you may be tempted to spend your limited valuable time promoting your degree (which is also important), try adding a unique element that will entice your prospects. Give them a feel for your school's culture and help you stand out from the competition.
Try feeder events
Your prospects are busy. Whether they're completing undergrad, shifting careers or climbing the corporate ladder, their time is limited. And as they're deciding their next steps, they may not have the availability to attend lengthy events at multiple schools. Giving your prospects options for how they experience your school can make a huge difference. You want them to attend a ½ day admissions event or weekend workshop – but often that's not the first entry point.
If you give your prospective students the opportunity to preview your school by attending a webinar, an informal lunch or a cocktail hour, you are more likely to push them further down the funnel. Talk to them about their career goals, determine what their ambitions are and then invite them to take the next step.
Go local
Based on your geography, and brand strength, your school may draw students from up to 300 miles away. Show them that attending your school is attainable by connecting with them in their area. Host informational lunches or dinners in different cities where you believe your prospects live. Use geotargeted digital advertising to drive event registrations. Follow up with prospects via email and texts based on filters in your CRM. Do what you can to show up and meet them on their turf.
Encourage attendance after registration
Event registrations do not guarantee attendance. In fact, it's possible that 20-50% of your attendees may not show up. To stay connected with them, show them you care. Call or text them to encourage them to come. Email them using personal subject lines and even use your personal email to touch base. If you don't have the resources to follow up with everyone individually, use an outbound call center or automated texting. And don't forget the power of your CRM to send timely messages.
As you finalize plans for recruiting season, consider partnering with a firm with a proven track record in higher ed. GPRS can give you access to successful formulas, methods and media choices to build a solid campaign aimed at your target student. Using our proven Digital Blueprint, we can hone in on qualified candidates and deliver the right communication and messaging that will encourage them to take action.