BY Anthony Campisi | July 31st, 2023
Optimizing Your Top of the Funnel Recruitment Marketing Strategy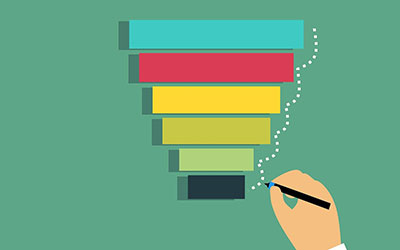 As an institution of higher education, attracting and recruiting new prospects is always top of mind. To do this, you first need to build awareness for your graduate school and MBA programs in a way that reaches your target audience efficiently and effectively. But what's the best way to do just that?
Fortunately, there are many top of the funnel (TOFU) marketing channels and strategies at your disposal, each of which offers its own unique advantages and niche. With these strategies, your graduate program can generate awareness, provide information to your target audience, and bring in leads to nurture. Let's examine a few of them in detail and learn more.
Increase your blog output and take search engine optimization (SEO) into account
First and foremost, your blog is a great tool when it comes to boosting your TOFU marketing strategy to build awareness and pique the interest of prospects. By blogging consistently and frequently, you can boost awareness for your graduate programs in search engines, convey valuable information to your audience, and boost your school's authority and brand recognition.
As you ramp up blog post output, remember to keep SEO front and center as a way to optimize your content for search. That means researching and incorporating keywords into your blog posts, optimizing each blog post's metatags, breaking up the content into brief paragraphs, bullet points, and numbered lists, and the like. By incorporating SEO best practices into your blog posts, you can supercharge your SEO and increase your grad program's brand awareness very effectively.
Get active on social media
Social media is an outstanding tool for building brand awareness and engaging with potential prospects.
As today's prospective grad school students are more digitally-engaged than ever, social media has become one of the most effective ways to reach them quickly and cost-effectively. When using social media marketing, it's important to use an omnichannel approach that reaches as many social platforms as possible in order to reach your target audience. In other words, don't just rely on LinkedIn, for example. Instead, leverage not only LinkedIn, but Instagram, TikTok, YouTube, Facebook, Twitter, and more to maximize your reach.
That being said, altering your messaging and content can also be very useful based on which channel you're using. For example, video platforms like YouTube and TikTok can be great for testimonials and alumni stories given their visual format, while Instagram and Facebook are more often effective when it comes to conveying more general information about campus activities and events, career fairs, and the like.
Leverage video marketing effectively
Video marketing is a powerful but sometimes-underutilized tool for higher education institutions when it comes to TOFU marketing. Video is an excellent channel to communicate with your audience, especially on social media, and can be used to convey information about campus events, alumni testimonials, your institution's recruitment process, and much more in an engaging way.
Optimize your top of the funnel strategy to build awareness
From blogging to videos, there's plenty of great ways to build up your top of the funnel marketing channels and increase awareness for your graduate school programs. Interested in optimizing your marketing funnel and boosting recruitment? GPRS has the resources to do all that and more. Contact us today to learn more.