BY Anthony Campisi | October 30th, 2019
Data-driven marketing: It's not as complex as you think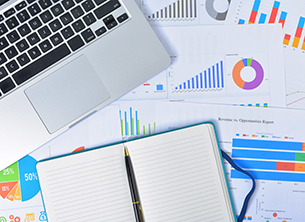 Data can be your most powerful marketing resource. But using it can also become one of your biggest challenges if you're not used to working with statistics, crunching numbers or harnessing large amounts of information to make informed marketing decisions. Here are some simple ways to start using data to strengthen your marketing campaigns, regardless of your comfort with data visualization tools.
Segment your communications
Even with a wealth of available market research and your own analytics, it doesn't have to be overwhelming to use data if you look at it in simple groupings. If you know 2-3 things about your audience – for example age, gender and zip code— you're on your way to a segmented email campaign that can match programs to certain age ranges, discuss career benefits for men or women and promote on-campus or remote classes based on geography.
Diversify your channels
You can use data to expand your marketing campaign beyond emails. If you know from an industry whitepaper that video ads are trending or that millennials are using Snapchat more than Facebook, you can use this to develop a multi-channel strategy. For example, you may be surprised to find out that 60% of your prospects are on LinkedIn daily but that they don't check their personal email more than 2 times a week.
Enhance the experience for your prospects
Using small, digestible pieces of data (from your own analytics) can make a huge difference in optimizing your school's website and marketing campaigns. For example, if you notice that the area of your site with the largest viewership is student testimonials, you may think about curating ad content using personal student stories. Or, if your ROI page has high viewership, but not a lot of time spent on the page, consider beefing up that content since ROI is a huge decision factor for many prospective students. Starting small and expanding as you gain confidence with your data can have far-reaching effects.
If you're looking for ways to use industry data or need advice on how to use your own analytics to improve your marketing, contact GPRS today.